Practical Electronics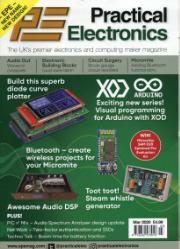 Click for a bigger cover
| | |
| --- | --- |
| Art. no. | 7349 |
| Title | Practical Electronics |
| Issue | 202003 |
| Sales date | Feb. 18, 2020 |
| In store until | March 24, 2020 |
| Price Sweden | 129.00 SEK |
| Price Norway | 155.00 kr |
| Country | Storbritannien (GB) |
| No of issues | 12/year |
Find a dealer
Search for retailers near you:
Buy online
You can subscribe or purchase a single issue of this magazine through pressbyrån.se Buy
---
Description
UK s No. 1 Electronics Magazine for Electronics Technology and Computer Projects, now celebrating 28 successful years - and with readers in more than sixty countries, we re simply the best international electronics magazine you can buy! If you re a novice electronics enthusiast or hobbyist, school or university student, professional or advanced constructor, then EPE has something for you! Nobody does it better than EPE - written by enthusiasts FOR enthusiasts!