Audio (D)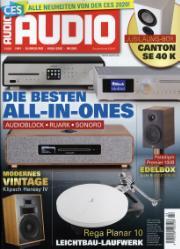 Click for a bigger cover
| | |
| --- | --- |
| Art. no. | 7411 |
| Title | Audio (D) |
| Issue | 202003 |
| Sales date | Feb. 20, 2020 |
| In store until | March 26, 2020 |
| Price Sweden | 105.00 SEK |
| Price Norway | 125.00 kr |
| Country | Tyskland |
| No of issues | 12/year |
Find a dealer
Search for retailers near you:
Buy online
You can subscribe or purchase a single issue of this magazine through pressbyrån.se Buy
---
Description
Europe s largest hi-fi magazine for hi-fi and music lovers. Buyer s Guide for hi-fi equipment and accessories with a wide range of future-oriented questions and tips for optimum sound. German magazine.