Sulzer Power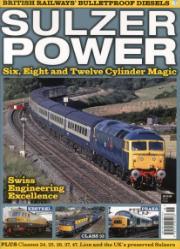 Click for a bigger cover
| | |
| --- | --- |
| Art. no. | 7416 |
| Title | Sulzer Power |
| Issue | 201801 |
| Sales date | July 17, 2018 |
| In store until | Sept. 11, 2018 |
| Price Sweden | 169.00 SEK |
| Price Norway | 199.00 kr |
| Country | Storbritannien (GB) |
| No of issues | 1/year |
Find a dealer
Search for retailers near you:
Buy online
You can subscribe or purchase a single issue of this magazine through pressbyrån.se Buy
---
Description
Sulzer provided a huge number of diesel engines that powered well over a thousand British Rail locomotives. Almost all were of a low-revving inline design and were to prove very reliable. They were fitted to the majority of BR¿s Type 2 fleet, one Type 3 and also the three `Peak¿ classes (44, 45, 46). The most numerous single class was also the most powerful ¿ the Class 47 ¿ which could be found right across the UK rail network.Sulzer Power celebrates all of these locomotives, as well as the two Sulzer-powered prototypes, Lion and Kestrel. This special will be extensively promoted by Key Publishing and much sought after by historic and rail enthusiasts alike.