Home Cinema Choice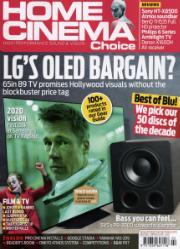 Click for a bigger cover
| | |
| --- | --- |
| Art. no. | 7614 |
| Title | Home Cinema Choice |
| Issue | 202002 |
| Sales date | Feb. 6, 2020 |
| In store until | March 12, 2020 |
| Price Sweden | 125.00 SEK |
| Country | Storbritannien (GB) |
| No of issues | 12/year |
Find a dealer
Search for retailers near you:
Buy online
You can subscribe or purchase a single issue of this magazine through pressbyrån.se Buy
---
Description
If you want to know the truth, the whole truth and nothing but the truth about surround-sound systems, DVD, Nicam VCRs, LaserDisc players, speakers, TVs and digital broadcasting, you need Home Cinema Choice. Created by the experts behind What Video & TV, HCC is the only complete guide to the world of home cinema. Every month the magazine reports on the latest products, technologies, services and systems in the home cinema world, offering the most demanding reviews, the most incisive news coverage and the most penetrating interviews.