Vogue Hommes Int.Mode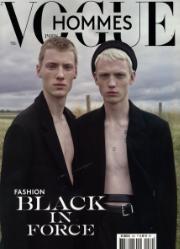 Click for a bigger cover
| | |
| --- | --- |
| Art. no. | 7681 |
| Title | Vogue Hommes Int.Mode |
| Issue | 201902 |
| Sales date | Oct. 1, 2019 |
| In store until | Nov. 26, 2019 |
| Price Sweden | 150.00 SEK |
| Price Norway | 179.00 kr |
| Country | Storbritannien (GB) |
| No of issues | 2/year |
Find a dealer
Search for retailers near you:
Buy online
You can subscribe or purchase a single issue of this magazine through pressbyrån.se Buy
---
Description
Vogue s own upmarket men s fashion edition. Published twice yearly it is perhaps the male equivalent of Vogue collections magazine. The latest trends, international stars, the great writers, exclusives and more and more fashion.