Mbr Mountain Bike Ride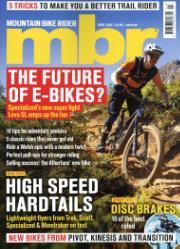 Click for a bigger cover
| | |
| --- | --- |
| Art. no. | 7708 |
| Title | Mbr Mountain Bike Ride |
| Issue | 202004 |
| Sales date | March 19, 2020 |
| In store until | April 23, 2020 |
| Price Sweden | 99.00 SEK |
| Price Norway | 119.00 kr |
| Country | Storbritannien (GB) |
| No of issues | 12/year |
Find a dealer
Search for retailers near you:
Buy online
You can subscribe or purchase a single issue of this magazine through pressbyrån.se Buy
---
Description
A high-quality magazine with the attitude `Just Get Out and Ride¿, Mountain Bike Rider is for those with a real passion for mountain biking. Mountain Bike Rider is all about encouraging you to get out there and hit the trail. Inside you¿ll find all the latest news, upcoming bikes and tech and more, as well as great ideas for destinations and trails to ride across the UK ¿ often including ride guide maps to help you do this. MBR also includes opinion pieces, features on the hobby as a whole and an excellent review section examining recently released bikes and kit from helmets to shoes via brakes and wheels. There is also advice on technique to help improve your riding, making this an essential read for any biking enthusiast.