Linux Magazine (Uk)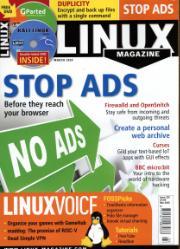 Click for a bigger cover
| | |
| --- | --- |
| Art. no. | 7710 |
| Title | Linux Magazine (Uk) |
| Issue | 202003 |
| Sales date | Feb. 18, 2020 |
| In store until | March 24, 2020 |
| Price Sweden | 169.00 SEK |
| Price Norway | 199.00 kr |
| Country | Storbritannien (GB) |
| No of issues | 12/year |
Find a dealer
Search for retailers near you:
Buy online
You can subscribe or purchase a single issue of this magazine through pressbyrån.se Buy
---
Description
Linux Magazine UK delivers the best coverage, the most insightful analysis and technical excellence to become the important information channel the industry¿s players and customers need in order to benefit from the Linux revolution. Linux Magazine UK is the product the industry asked us to launch. A high quality publication that through newstrade rather than controlled circulation distribution finds and identifies quality Linux buyers and users.The launch of Linux Magazine UK gives the market a product which brings with it credibility and an unbeatable network of expert knowledge to support the Linux industry¿s move to stimulate growth.