Icreate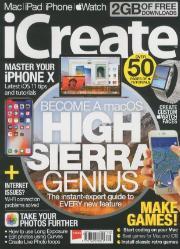 Click for a bigger cover
| | |
| --- | --- |
| Art. no. | 7736 |
| Title | Icreate |
| Issue | 201713 |
| Sales date | Nov. 21, 2017 |
| In store until | Dec. 19, 2017 |
| Price Sweden | 165.00 SEK |
| Price Norway | 179.00 kr |
| Country | Storbritannien (GB) |
| No of issues | 12/year |
| Ceases | Jan. 1, 2020 |
| Reason | Upphörd pga låg försäljning. 20190416/SW |
Find a dealer
Search for retailers near you:
Buy online
This magazine is unfortunately not available on pressbyrån.se, du kan dock söka återförsäljare här brevid. Buy
---
Description
Create is the most stylish Macintosh magazine ever created. Aimed at new home Mac users, iCreate takes you through the main Apple programs ¿ iMovie, iDVD, iTunes, iPhoto, iCal, Safari and Mail, as well as OS X itself. In-depth beginners tutorials, features on new Mac hardware, and of course the self indulgence of iCandy... You want it. Monthly.