Le Monde Diplomatique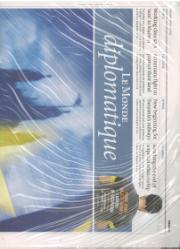 Click for a bigger cover
| | |
| --- | --- |
| Art. no. | 7924 |
| Title | Le Monde Diplomatique |
| Issue | 201902 |
| Sales date | Feb. 26, 2019 |
| In store until | April 2, 2019 |
| Price Sweden | 95.00 SEK |
| Price Norway | 112.00 kr |
| Country | Storbritannien (GB) |
| No of issues | 12/year |
Find a dealer
Search for retailers near you:
Buy online
You can subscribe or purchase a single issue of this magazine through pressbyrån.se Buy
---
Description
Le Monde diplomatique is the place you go when you want to know what¿s really happening. This is a major international paper that is truly independent, that sees the world in fresh ways, that focuses on places no other publications reach. We offer a clear, considered view of the conflicting interests and complexities of a modern global world.