Marie Claire Idees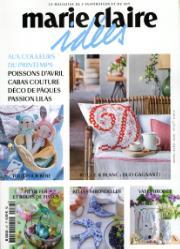 Click for a bigger cover
| | |
| --- | --- |
| Art. no. | 7967 |
| Title | Marie Claire Idees |
| Issue | 202002 |
| Sales date | March 10, 2020 |
| In store until | April 14, 2020 |
| Price Sweden | 78.00 SEK |
| Price Norway | 93.00 kr |
| Country | Frankrike |
| No of issues | 6/year |
Find a dealer
Search for retailers near you:
Buy online
You can subscribe or purchase a single issue of this magazine through pressbyrån.se Buy
---
Description
Marie Claire is the magazine with creativity and inspiration that embody what is within every woman: Ideas for fashion, beauty and decoration. The magazine is in harmony with the new feminine values¿¿, values ¿¿of respect, integrity and allows hedonism. Marie Claire inspires it s readers to approach the creation and self-realization in all its forms.