Bust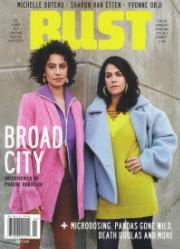 Click for a bigger cover
| | |
| --- | --- |
| Art. no. | 9598 |
| Title | Bust |
| Issue | 201901 |
| Sales date | Feb. 7, 2019 |
| In store until | March 14, 2019 |
| Price Sweden | 129.00 SEK |
| Price Norway | 155.00 kr |
| Country | USA |
| No of issues | 6/year |
Find a dealer
Search for retailers near you:
Buy online
You can subscribe or purchase a single issue of this magazine through pressbyrån.se Buy
---
Description
BUST is the magazine of choice for today s sassy girls who know that Vogue is vapid, Glamour is garbage, and Cosmo is clueless. Fierce, funny, and too smart to be anything but feminist, BUST is the Voice of the New Girl Order --and the only magazine for women with something to get off their chests. Quarterly.