Royalty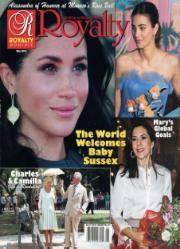 Click for a bigger cover
| | |
| --- | --- |
| Art. no. | 9686 |
| Title | Royalty |
| Issue | 201905 |
| Sales date | June 18, 2019 |
| In store until | July 23, 2019 |
| Price Sweden | 105.00 SEK |
| Price Norway | 125.00 kr |
| Country | USA |
| No of issues | 12/year |
Find a dealer
Search for retailers near you:
Buy online
You can subscribe or purchase a single issue of this magazine through pressbyrån.se Buy
---
Description
For almost two decades, Royalty has chronicled the lives and times of the world s Royals.The magazine creates a colourful record of Royal history as it s being made, a joy for current generations to treasure and a collection that can be passed on to future generations to cherish. Join our worldwide family of readers. Monthly.