Passagemaker Mag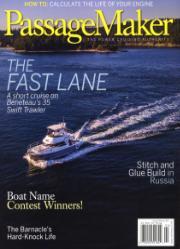 Click for a bigger cover
| | |
| --- | --- |
| Art. no. | 9780 |
| Title | Passagemaker Mag |
| Issue | 201901 |
| Sales date | Jan. 22, 2019 |
| In store until | Feb. 26, 2019 |
| Price Sweden | 99.00 SEK |
| Country | USA |
| No of issues | 8/year |
| Ceases | May 1, 2019 |
Find a dealer
Search for retailers near you:
Buy online
You can subscribe or purchase a single issue of this magazine through pressbyrån.se Buy
---
Description
PassageMaker focuses on exploring and presenting the realities of cruising and voyaging. It will document the preparations necessary for traveling and living aboard, and how to deal with any number of practical and often non-marine issues. It wants to assist you in making your cruising plans attainable, affordable, and enjoyable. We intend all these things and hope that PassageMaker becomes an active platform for all of us to share information, our ideals, and ourselves.