Trains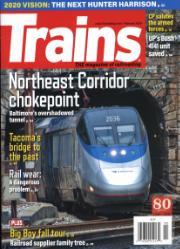 Click for a bigger cover
| | |
| --- | --- |
| Art. no. | 9875 |
| Title | Trains |
| Issue | 202002 |
| Sales date | Feb. 11, 2020 |
| In store until | March 17, 2020 |
| Price Sweden | 139.00 SEK |
| Price Norway | 165.00 kr |
| Country | USA |
| No of issues | 12/year |
Find a dealer
Search for retailers near you:
Buy online
You can subscribe or purchase a single issue of this magazine through pressbyrån.se Buy
---
Description
You can capture the power, history and drama of railroading in TRAINS Magazine. You ll learn about great railroad empires, see the newest high-tech locomotives, and enjoy award-winning photography. Experience the inside world of the railroading hobby with Trains. Discover the power, history and drama of America s railroads from golden years to present. Award winning photography, late breaking news and in-depth articles make Trains the #1 magazine for railroad enthusiasts.